The Concept of Character Learning: A Comparative Study of Al-Ghazali and Thomas Lickona's Perspectives
Abstract
The main goal in character education is to achieve noble character to create a harmonious human life, helping each other, being fair, and having a balanced relationship in social life. Because of that, instilling character in students is fundamental so that when they grow up, they can become the next generation of solid character. This study uses library research that compares the concept of learning the character of al-Ghazali and Thomas Lickona. The research method carried out in this study was carried out with several steps, such as collecting qualitative data based on reputable data sources and analyzing data to obtain final results. The study results show that Al-Ghazali's educational method is a traditional nuanced method of "lecture and uswah hasanah". Furthermore, Al-Ghazali's educational materials are all forms of teachings contained in the Islamic religion. More clearly and concretely, the concept of education initiated by Al-Ghazali contains two elements: transcendence (rububiyyah: divine) and humanization. Meanwhile, the concept of character learning initiated by Thomas Lickona formulates character learning that involves all components in the education process, both family, school, and community. In addition, the character learning process, according to Thomas Lickona is an effort that involves three aspects of intelligence, including cognitive through moral knowing, affective through moral feeling, and psychomotor through moral acting as follows: The purpose of character learning is to help students become intelligent and good in manners.
Keywords
Character education; Al-Ghazali; Thomas Lickona; Comparative study
References
Ahmadi, Abu dan Widodo Supriyono. Psikologi Belajar. Jakarta: Rineka Cipta, 1991.
Al Ghazali. Raudhah: Taman Jiwa Kaum Sufi. Surabaya: Risalah Gusti, 1997.
_________ . Ihya' Ulumuddin, Juz 1, Beirut: Dar al-Fikr, 1980.
_________. Raudhah: Taman Jiwa Kaum Sufi....,t.t.
Arief, Armai. Pengantar Ilmu dan Metodologi Pendidikan Islam. Jakarta: Ciputat Pers, 2002.
Asmani, Jamal Ma'nur. Buku Panduan Internalisasi Pendidikan Karakter di Sekolah. Jogjakarta: Diva Pres, t.t.
Azzet, Akhmad Muhaimin. Urgensi Pendidikan Karakter di Indonesia "Revitalisasi Pendidikan Karakter Terhadap Keberhasilan Belajar dan Kemajuan Bangsa". Jogjakarta: Ar Ruzz Media, 2011.
Bakker, Anton dan Achmad Charris Zubair. Metodologi Penelitian Filsafat. Yogyakarta: Kanisius, 1990.
Dalmeri, "Pendidikan Untuk Pengembangan Karakter". Al-Ulum. 1 Juni, 2014.
Dalmeri. "Pendidikan untuk Pengembangan Karakter (Telaah terhadap Gagasan Thomas Lickona dalam Educating for Character)". Al-Um, 1 Juni, 2014.
Daradjat, Zakiah. Ilmu Jiwa Agama. Jakarta: Bulan Bintang, 2003.
Departemen Pendidikan dan Kebudayaan. Kamus Besar Bahasa Indonesia. Jakarta: Balai Pustaka, 1991.
Echols, Jhon M. dan Hasan Shadily. Kamus Inggris-Indonesia. Jakarta: PT. Gramedia, 2005.
Gunawan, Heri. Pendidikan Karakter Konsep dan Aplikasi. Bandung: Alfabeta, 2014.
____________. Pendidikan Karakter: Konsep dan Implementasi. Bandung: Alfabeta, 2014.
Hadi, Sutrisno. Metode Risearch I. Yogyakata: Afsed, 1987.
Halim, Abdul. Jakarta: Ciputat Press, 2002.
Hamid, Abu. Imam al-Ghazali, Ringkasan Ihya' 'Ulumuddin. Bandung: Sinar Baru Algesindo, 2009.
Hidayat, A. Penelitian Al-Qur'an sebagai Dasar dalam Sistem Pendidikan Islam. Bandung: Pusli, t.t.
Julaiha, Siti. "Implementasi Pendidikan karakter Dalam pembelajaran", Dinamika Ilmu, 2 (Desember, 2014)
Khan, Shafique Ali. Filsafat Pendidikan Imam Al-Ghazali. Bandung: Pustaka Setia, 2005.
Langgulung, Hasan dalam kata pengantar buku fathiyah hasan sulaiman. Bahs Fi al-Madzhab al-Taarbawi 'Ind al-Ghazali, terj. Ahmad Hakim dan M. Imam Aziz "Konsep Pendidikan al-Ghazali". Jakarta: P3M, 1986.
_________. Asas-Asas Pendidikan Islam. Jakarta: Pustaka al-Husna, 1988.
Lickona, Thomas. Character Maters, terj. Juma Adu Wamanguna. Jakarta: Bumi Aksara, 2012.
___________. Educating For Caracter, terj. Abdu Wamaunga (Jakarta: Bumi Aksara, 2012)
Mujib, Abdul. Ilmu Pendidikan Islam. Jakarta: Kencana Prenada Media, 2006.
Muslich, Mansur. Pendidikan Karakter: Menjawab Tantangan Krisis Multidimensial. Jakarta: Bumi Aksara, 2011.
Nizar, Samsul. Filasafat Pendidikan Islam. Jakarta: Ciputat Pers, 2002.
__________. Filsafat Pendidikan Islam Pendekatan Historis Teoritis dan Praktis.....,t.t.
Nuraida dan Rihlah Nur Aulia. Character Building Untuk Guru. Jakarta: Aulia Publishing House, 2007.
Quasem, M. Abul dan Kamil. Etika Al-Ghazali: Etika Majemuk di dalam Islam, terj. J. Mahyudin. Bandung: Pustaka, 1988.
Ramayulis dan Samsul Nizar. Ensiklopedi Tokoh Pendidikan Islam di Dunia Islam dan Indonesia. Ciputat: Quantum Teaching, 2005.
Samani, Muchlas dan Harianto. Konsep dan Model Pendidikan Karakter. Bandung: PT. Remaja Rosdakarya, 2011.
Sevilla, Consuelo G. Pengantar Metodologi Penelitian, terj.Alimudin Tuwu, et. al., Jakarta: UI Press, 1993.
Sofat, Charletty Choesyana. "Pengembangan Karakter Melalui Pendidikan Keluarga", Disertasi Doktor. UIN Syarif Hidayatullah Jakarta, 2008.
Sulaiman, Fathiyah Hasan. Sistem Pendidikan Versi Al-Ghazali. Bandung: Al-Ma'arif, 1986.
Syaifuddin, A. Percikan Pemikiran Imam Al-Ghazali. Bandung: Pustaka Setia, 2005.
DOI:
http://dx.doi.org/10.22373/jie.v5i1.11974
This work is licensed under a
Creative Commons Attribution-ShareAlike 4.0 International License
.
Welcome to DAYAH: Journal of Islamic Education open journal system. Thank you very much for visiting. We are looking forward to getting your articles
DAYAH: Journal of Islamic Education

All works are licensed under CC BY-SA
© DAYAH: Journal of Islamic Education 2019. Published by Center for Research and Community Service (LP2M) in cooperation with Master's Degree of the Department of Islamic Education, Postgraduate Program of Universitas Islam Negeri (UIN) Ar-Raniry Banda Aceh, Aceh, Indonesia.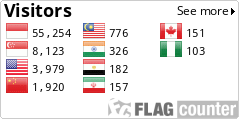 Indexed by:
Supported by: